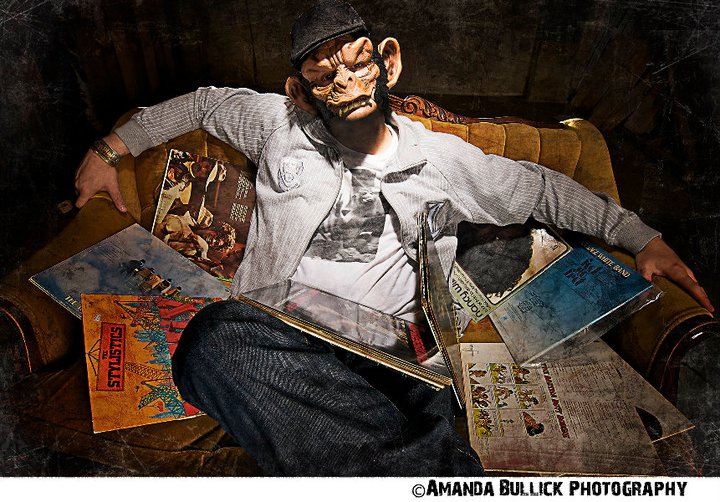 "I love the crackle and the crunch of dirty vinyl," proclaims The Dirty Sample of his DJ Muggs-like fascination with dusty vinyl that initially earned him his beat-making monicker, having purchased a sampler in '98 in order to construct the beats his then 3-year-old rapper alter ego, Planit, wasn't receiving from other producers. Now, nearly 30 albums in, he has a catalogue that includes instrumental works, remix projects, and collaborations with the likes of Roc Marciano, Guilty Simpson, Myka 9, Kirby Dominant, Moka Only, D-Sisive, Merkules, Snak the Ripper, Touch and Wordburglar, among others.
That heavy discography includes Joshua's Dreamixes, his remix album for Hand'Solo Records in 2010, as well as his two collabs with fellow Calgarian Touch (The Fly on Neferiu in 2012, and The Thing, self-released in 2015) and his three independently released Port Authority group albums (We Ain't Back in the Day in 2012, followed by No Risk No Gain and Get the Fish in 2013), but his biggest hit to date is the compilation album he produced, Raw Produce, released on Phonographique in 2015. Raw Produce received positive features from XXL, Mass Appeal, Complex, 2DopeBoyz, and elsewhere, thanks to key single "Three Sixty Five" with Roc Marciano, but The Dirty Sample "was also stoked when they played my beat on Sway In the Morning for Charles Hamilton to spit a freestyle over — that's the freshest."
The Dirty Sample's newest is Tuesday Nights on Cardero, named for the Tuesday night recording sessions he conducted at his Cardero Drive home studio in the West End of Vancouver, BC. Relocating there from Calgary for a change of scenery that lasted three years, The Dirty Sample had a particularly productive 2011 that resulted in the recording of the three Port Authority albums and much of Raw Produce, as well as the self-titled Winfield & Vega album (2013) with Hash Mills, and New Clear (2014) with Kaboom Atomic.
The Dirty Sample revisits those sessions, selecting eight previously unreleased posse cuts featuring the rhyme talents of Tuesday night regulars Chaka Boy (Port Authority, Low Pressure), Fatt Matt (Port Authority, Low Pressure), Hash Mills (Port Authority, Shallow Hal), Kaboom Atomic (Low Pressure), Tachichi, (Low Pressure, Sipset), Lesk One (Wise Green Money), and one final verse from his own now-retired MC-monicker, Planit. There's definitely no shortage of blazing bars or fresh flows, hitting on the topics of family and crew, the music industry, the inevitable ode to weed, and a heavy dose of braggadocio.
All eight songs are produced by The Dirty Sample, with three co-produced with long-time collaborator Metawon, under their production duo group name Illions. At times epic and other times atmospheric, the organic sound of this collection is due to the nature of its creation. Each rapper adds his own style and vibe to the track, and the result is raw rap boom bap essence. 
Tuesday Nights On Cardero is available as a free download, but those who still prefer something tangible will receive a little something special with the cassette release — a b-side cassette-only exclusive remix of the EP with all-new production from Metawon, Low Pressure founder and resident producer DJ Moves, frequent collaborator Touch (who also adds new vocals!), DJ Usdneedls (of Hidden Fortress), and Backburner's More Or Les, Timbuktu, Savilion and Fresh Kils. Looks like you'll have to dust off that ol' boom box for this one!
Welcome to Tuesday Nights on Cardero…
Hand'Solo Records Discography:
ALBUMS