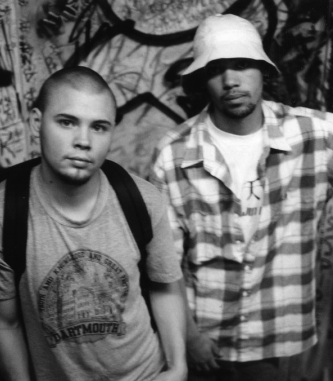 "The only people that really influence me," says Tachichi, Dartmouth, NS's 20-year old lyrical mastermind, "are the people I work with, the people I perform with in Halifax."
Tachichi has been writing poetry and rhymes since the age of thirteen, performing live for the first time in '96 at the age of fifteen. One of these early performances was captured for the Bassments of Badmen compilation with the live "Tyrone's Freestyle" initiating a rabid fanbase.
With only two cassettes and a bunch of guest appearances and compilation tracks, T has still been listed as a hot new Canadian hip hop act to keep an eye on by both Canada's Watch Magazine and the mighty Rap Pages' B-Boy Kingdom. His silky Maritime drawl has graced tracks by and with all of the greats of Haltown hip hop: pioneer Witchdoc Jorun, the experimental Sebutones (Buck 65 and Sixtoo), the Goods, Josh Martinez, and Nathan C to name just a few.
His most recent recording partner is DJ Moves, himself one of the veteran heavy hitters of the Halifax scene. Moves helped to pioneer the scene as producer and DJ for Hip Club Groove. Since they disbanded, Moves has been producing phenomenal tracks for a number of MCs in Halifax and abroad.
Their first full-length collaborative effort, Truth of the Trade, is a look into the life of then-18-year old Tachichi: sex, drugs, alcohol, and a whole lot of bitter (sweet) dissing; all over some of the most creative beats north of the border. Truth of the Trade contains a mere 26 songs, including "Layin It Down" (original and remix), which shot to the top of the top ten play list at Halifaxn's CKDU under the title "Superstar" when a leaked copy of the song got out before the full-length was even released.
Their newest project, Suicidal Soul, is an apt example of the chemistry that exists between Tachichi & DJ Moves. Whether it be the braggadocia of "Choplifter" and "Union Strike," the epic posse cut "Heads Up!" featuring Buck 65, Knowself and Kunga 219, the humourous sexcapades of "Bush Gardens," or the medieval drinking anthem "Booze Hounds II," Tachichi & DJ Moves are set to bring their unique brand of Halifax hip hop to the rest of the world. Once again Tachichi & DJ Moves prove that together this Cryptic Souls duo create the perfect underground party jams!
Hand'Solo Records Discography:
ALBUMS
COMPILATION AND MIXTAPE APPEARANCES