A pair of singles were left for you under the Christmas tree by the Backburner crew today…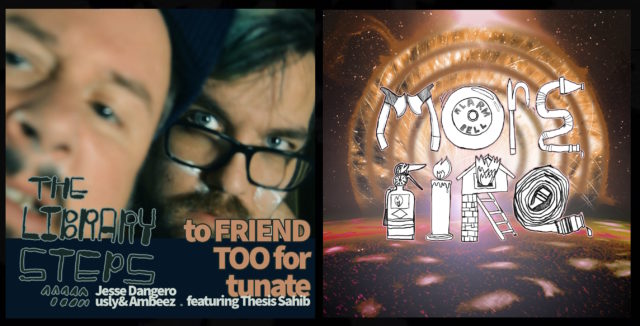 The first is this third single from The Library Steps' debut album, Rap Dad, Real Dad, being re-released on vinyl on January 7. "To Friend Too Fortunate" is a celebration of friendship as 20-year-deep friends Jesse Dangerously and Thesis Sahib join forces over the laidback Ambeez beat.

The song also gets the visual treatment with a video in which the two friends enjoy a sugar high slumber party and explore a magical little Christmas village in downtown Sarnia, ON. Directed and shot by Jesse James.
Pick up one of their limited run t-shirts available here only until Christmas with a 10% discount using code "christmas" at checkout. Or grab the album on digital, CD or cassette, or pre-order the vinyl, here.
And for the second single, keep warm with your friends and family this holiday season as you sit around the stereo or the boom box or the laptop and enjoy the hot sounds of "More Fire", the second single from Backburner's upcoming third album, Continuum, dropping on February 11.
Pre-order the album on digital, CD, cassette or vinyl here.