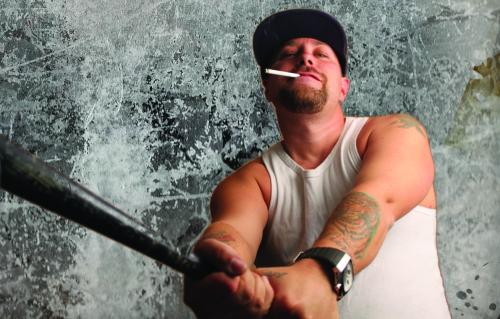 "I'm still killing it / Always going to rep the 'Ville" – Fortunato, "Highway of Life"
Formed in 2006 out of the ashes of Aurora, ON rap group A-Team, Angerville was founded as a focus for the anger of rappers Fortunato and Conscious Thought, and to honour their friend and former group member, Ill Da Shystee, found murdered (still unsolved) on May 6, 2002.
The duo's newfound focus has resulted in three Angerville albums, three mixtapes, three Fortunato solo albums, and five videos aired on Much Music, two in high rotation. They have also won the Best Urban Award at the Barrie New Music Fest in 2010, and were nominated for Best Live Performance at the Toronto Independent Music Awards in 2009 and Group of the Year in the Unsigned Hype Awards for 2011. Angerville has collaborated with Chad Hatcher, D.O., Tek (of Smif N Wessun), Juno nominees Ghettosocks and D-Sisive and Juno winner Moka Only.
New album Warfare concludes the trilogy started with Rebellion in 2008 and followed by Uprising in 2010. Producers Anonymous Twist, Fresh Kils, Royce Birth, Makemdef, Stuey Kubrick, Bassmentunit (Germany), and others, provide the music to match the themes of conflict, aggression and the darkness that surrounds war. Fortunato battles apathy as he watches the world turn to shit ("Change The World" with Flex of Antiheroes), imagines a post-apocalyptic world ("End of Days"), pens a love letter to his city (first single "Ain't No Thang") and offers the middle finger to doubters and haters ("Stake Our Claim" featuring Pumpkinhead and "F*ck What You Heard" with Swann).
He also dabbles in dubstep ("No Time Like Now," featuring Massacre), takes a stab at over-the-top horrorcore ("Pain"), and gets plenty personal. "Highway of Life," with KOTD host/battle rapper Bishop Brigante, touches on the absence of Conscious Thought, who left the group after the release of their Winter Mingler mixtape earlier this year in order to deal with problems bigger than music. "Famine," inspired by a youth spent in a street gang, reveals the lengths to which one might go for a bite to eat, and "Turn Down" is an honest depiction of his battle with Bi Polar Disorder.
Determined to finish what he and Conscious Thought started, Fortunto carries the torch forward with Warfare. While the switch from half a duo to solo artist was sudden, it gave Fortunato the opportunity to find his inner strength and spread his wings. No more excuses. Fortunato is ready to prove he has the talent and skill required to satisfy loyal Angerville fans worldwide.
Hand'Solo Records Discography:
ALBUMS AND SINGLES
COMPILATION AND MIXTAPE APPEARANCES