Hand'Solo Records and long-time supporters Bbarak Magazine have been discussing an exclusive Backburner interview since prior to the release of the album. It took a long time to coordinate due to busy schedules for all involved, but it has finally happened. The interview was conducted between label head and ace interviewer Thomas Quinlan (me!) and core members Wordburglar, Ghettosocks, Timbuktu and Chokeules. They discuss how they came to be in Backburner, the difficulties of recording an album with nearly 20 members, the prospects of a follow-up, and what their highest recommended Backburner album might be… I hope all the humour and sarcasm comes through… Thanks to Lukas at Bbarak for making this happen.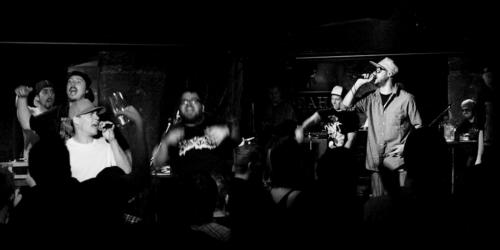 Here's a little taste, beginning with the opening question:
Bbarak.cz: Mohli byste se úvodem představit a uvést, jak jste se stali součástí Backburner?
Wordburglar: Mé jméno je Wordburglar SJ. Do Backburner mne asi před 10 lety přivedl Fresh Kills. Znal jsem už ale tehdy [Uncle] Festera, Thesise [Sahiba], Jesseho [Dangerouslyho] a další MC´s a producenty z Halifaxu.
Ghetosocks: Ghettoscks. To, proč jsem v Backburner, ani nevím (Wordburglar a všichni okolo se začnou smát). Popravdě to má co dočinění s Timbuktu. Bez něj bych v kapele nebyl.
Timbuktu: Já jsem Timbuktu. Kromě Backburner mě můžete znát i z Toolshed. Myslím, že dřív jsme měli každý své vlastní zájmy. My se zabývali především Toolshed. Pak nás ale Kills se všemi seznámil, začali jsme spolupracovat a postupně to přerostlo v Backburner.
Chokeules: Tady Chokeleus z Backburner a Toolshed. Můj příběh je velmi podobný Timbuktovému. Myslím, že to bylo v roce 2001, kdy jsme byli na turné s Wordburglarem a zastavili se v Halifaxu. Tady jsme potkali Jesseho a ostatní kluky. Oni už si s myšlenkou Backburner pohrávali. My se přidali následně. O nahrání alba jsme pak hovořili více méně neustále.
ENGLISH TRANSLATION:
Bbarak.cz: Could you introduce yourself and and indicate how you became part of Backburner?
Wordburglar: My name is SJ the Wordburglar. I was brought into Backburner about 10 years ago by Fresh Kils. I already knew [Uncle] Fester, Thesis [Sahib], Jesse [Dangerously] and other of the producers and MCs in Halifax.
Ghetosocks: Ghettoscks. I don't know how I ended up in Backburner [everyone starts laughing]. I blame it all on Timbuktu. Without him, I wouldn't be in Backburner.
Timbuktu: I'm Timbuktu. Aside from Backburner, I'm also from Toolshed. I think for a while we each had our own interests. We dealt primarily with Toolshed. Then we met Kils and we started to cooperate and eventually we grew to become a part of Backburner.
Chokeules: Chokeleus, of Backburner and Toolshed. My story is very similar to Timbuktu, but bilingual. I think it was in 2001 when we were on tour with Wordburglar and stopped in Halifax. There we met Jesse and the other boys. They had already toyed with the idea of ​​Backburner. We were subsequently added. When we recorded the album, we were talking more or less constantly.
Those of you fluent in Czech, or if you love using those half-ass online translators, check the interview out here: http://www.bbarak.cz/article-64-backburner-popisuji-vznik-kapely-nahravani-heatwave-a-pripravy-nove-desky-10179