"Continuum se dévoile au fil des écoutes comme une collection d'irrésistibles petits classiques et surtout comme un album particulièrement bien construit qui monte peu à peu en puissance…" – Indie Rock Mag
And Backburner's Continuum makes another Top Albums list of 2022, this one by Rabbit for Indie Rock Mag. Read his review of the album below, and the English translation below that, or click here to read it along with the rest of his list from 21-40.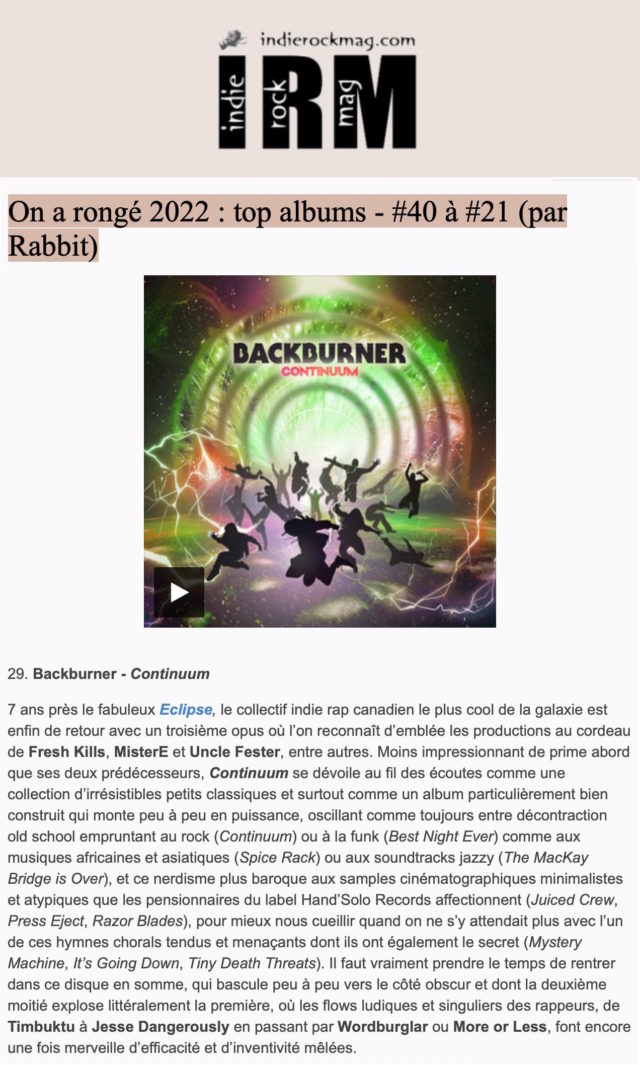 TRANSLATION:
On a gnawed 2022: top albums – #40 to #21 (by Rabbit)
29. Backburner – Continuum

7 years after the fabulous Eclipse, the coolest Canadian indie rap collective in the galaxy is finally back with a third opus where we immediately recognize the string productions of Fresh Kills, MisterE and Uncle Fester, among others. Less impressive at first glance than its two predecessors, Continuum reveals itself over the course of listening as a collection of irresistible little classics and above all as a particularly well-constructed album which gradually gains in power, oscillating as always between old school relaxation borrowing from the rock (Continuum) or funk (Best Night Ever) as well as African and Asian music (Spice Rack) or jazzy soundtracks (The MacKay Bridge is Over), and this more baroque nerdism with minimalist and atypical cinematographic samples that the residents of the label Hand'Solo Records are fond of (Juiced Crew, Press Eject, Razor Blades), to better pick us up when we no longer expected it with one of these tense and threatening choral hymns of which they also have the secret (Mystery Machine, It's Going Down, Tiny Death Threats). You really have to take the time to get into this record, in short, which is gradually shifting towards the dark side and whose second half literally explodes the first, where the playful and singular flows of rappers, from Timbuktu to Jesse Dangerously via Wordburglar or More or Less, are once again a marvel of efficiency and inventiveness mixed together.