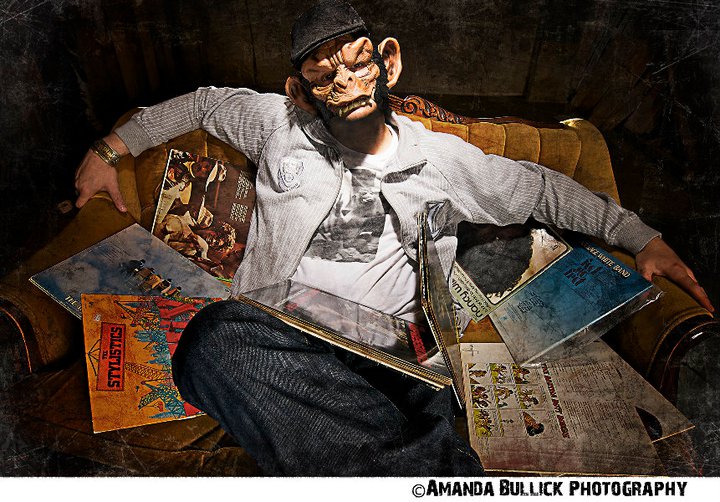 Apeface aka The Dirty Sample has been producing and rapping for over 15 years in a cave hidden somewhere deep in the Kootenays. Or so they say. The one sure thing is how he got his name. Just look at his face! And his other name? "I love the crackle and the crunch of dirty vinyl," explains the elusive Northwest silverback of his DJ Muggs-like fascination with dusty vinyl first discovered after buying a sampler in '98 to construct the beats his then 3-year-old rapper alter ego, Planit, wasn't receiving from other producers. Now, nearly 30 albums in, he has a catalogue that includes instrumental works, remix projects, and collaborations with the likes of Roc Marciano, Guilty Simpson, Myka 9, Kirby Dominant, Moka Only, D-Sisive, Merkules, Snak the Ripper, and many of your other favourite rappers.

His massive discography includes two remix albums for Hand'Solo Records, two collabs with fellow Calgarian Touch, and his three independently released Port Authority group albums, but his biggest hit to date is Raw Produce, the compilation album he produced, and released on Phonographique in 2015. Raw Produce received positive features from XXL, Mass Appeal, Complex, 2DopeBoyz, and elsewhere, thanks to key single "Three Sixty Five" with Roc Marciano.

Add to that impressive list four albums as Apeface. The ape's latest and last is Ape No More, a self-produced tribute to the music that has guided him to where he's at today. Staring into the sky with comfort. Accept the truth and live for what you love.

Apeface wanted you all to hear his final words.
Hand'Solo Records Discography:
ALBUMS AND SINGLES