It's been almost a week since Fan Expo ended and I think I've finally recovered. And aside from the fascist enforcement of petty security rules that often made no sense and the terrible bottle-necking that occurred at the escalator trying to get from the South Building to the North Building, the event was a great time!
This year we shared a table with Mike Holmes who is now best known for drawing the covers for the Adventure Time comic and the artwork for the Bravest Warriors comic. It was an interesting experience to be lost in amongst the other sellers in Artists Alley, but it was a great experience to connect with the other creators and artists around me. Anyway, here's the 3 feet of Hand'Solo table space: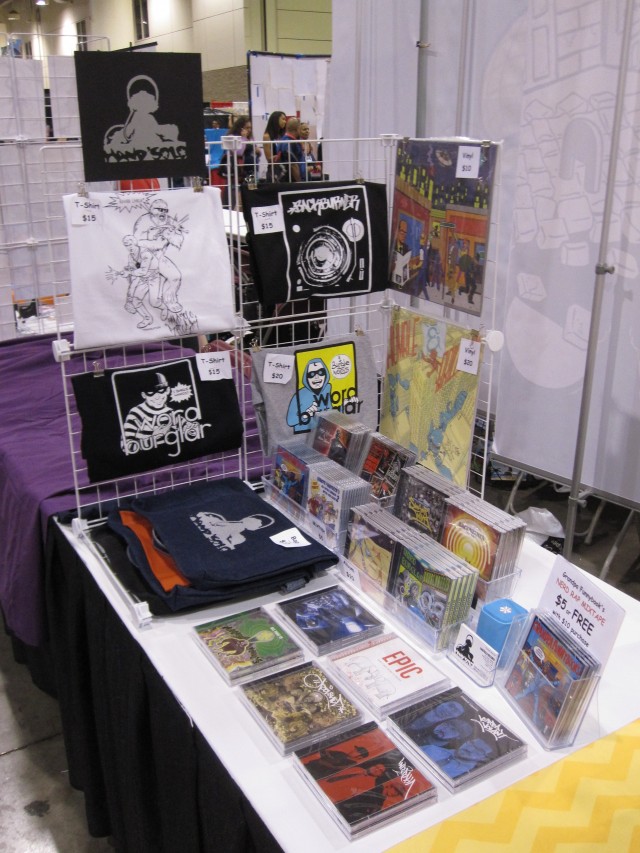 It was great to have some of the regulars back at our booth, but also a pleasure to be able to introduce ourselves and our favourite artists to a new crowd again this year. We gave out a lot of Grandpa Funnybook 3 mixtapes at our table at Fan Expo and also at the merch booth at Nerd Noise Night on Saturday night at the Horseshoe Tavern. A few CD copies are still left, and they've been made available to purchase on Bandcamp:
Special Note: the CD version contains a bonus track from Mega Ran featuring Has Lo, Zilla Rocca and Open Mike Eagle that had to be cut from the digital version (although a few lucky people also got the song on their digital version before the cut was made)… You lucky bastards!
And as was already mentioned, Saturday was Nerd Noise Night, and Wordburglar, More Or Les and Peter Project (performing as his dance music alter ego Coins) all rocked awesome sets, but it was Cybertonic Spree that stole the show. Here they are dressed as the Transformers performing their opening song "The Touch" from the soundtrack to the 1986 animated Transformers movie: