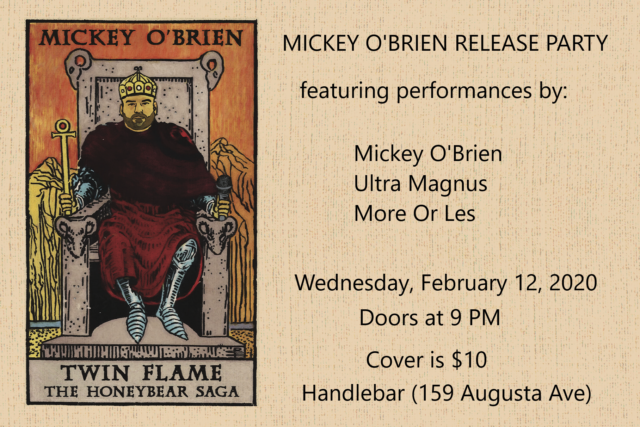 Mickey O'Brien is releasing his new EP, Twin Flame – The Honey Bear Saga, on Hand'Solo Records on Valentine's Day. He's celebrating the release with a show in Toronto on Wednesday, February 12 at Handlebar and a show in Sudbury on Thursday, February 13 at The Townehouse Tavern.
TORONTO – FEB 12
Performances by Mickey O'Brien, Ultra Magnus, and More Or Les
Where: Handlebar (159 Augusta Ave)
Doors: 9pm
Cover: $10
More info here: https://www.facebook.com/events/212306976601805/
SUDBURY – FEB 13
Performances by Mickey O'BRien, Ultra Magnus, Magick Pelvis, and Matt Foy.
Where: The Townehouse Tavern (206 Elgin St)
Doors: 9pm
Cover: $7
More info here: https://www.facebook.com/events/2204191246555525/