On May 4th aka Star Wars Day, Hand'Solo Records is going to be holding a release party for Mickey O'Brien's Shift Change album with additional live performances from Primal Winds, Ultra Magnus, and a beat set from Fresh Kils. Music provided by DJ SLAM! It's going down at The Piston.

Please come out, and share this event with everyone you know. We want to have a big crowd on our first show in over 2 years! We'll have vinyl, CDs, cassettes, t-shirts, and more for sale!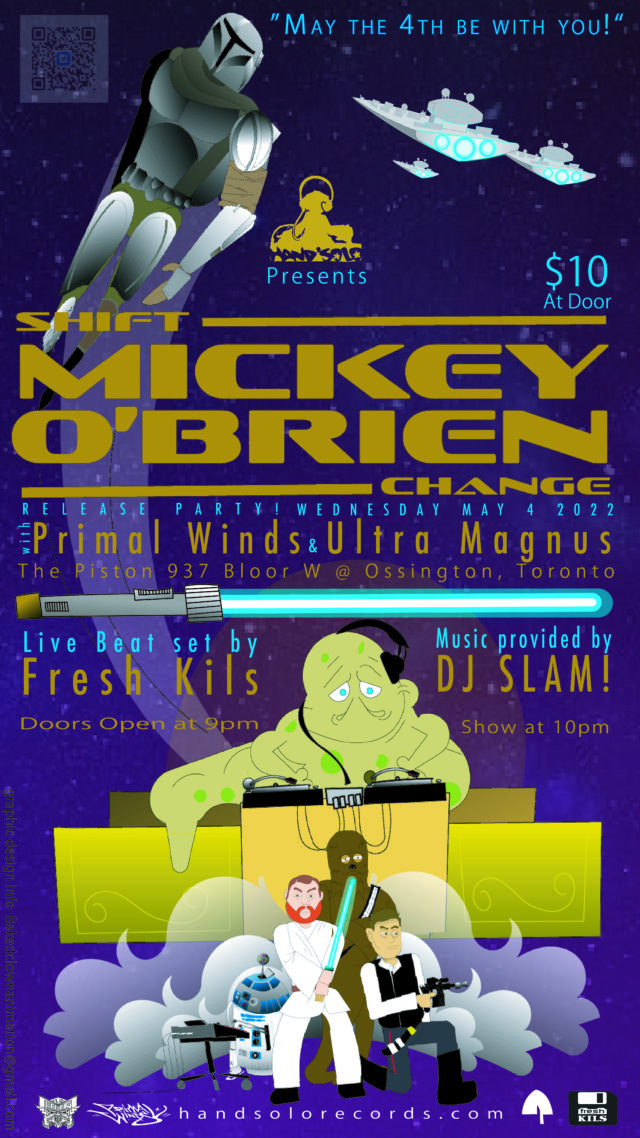 Check the FACEBOOK EVENT PAGE for additional info!
Doors at 9PM / Show at 10PM / $10 Admission

PERFORMERS:

Mickey O'Brien
Canadian rap artist Mickey O'Brien spent the past few years focused on one thing: crafting great art. Even prior to his emergence as a solo artist in 2019, while still a member of rap-rock outfit Kill the Autocrat, O'Brien proved himself a powerful voice of the north for hip-hop. Representing Sudbury, ON, his music captures a fresh and exciting perspective – one that is both universally human and distinctly Northern Ontario. And as a hard-rock miner working thousands of feet underground, O'Brien is a blue-collar worker who also excels at compelling stories, 'no BS' observations, and skilful, conversational lyricism.
https://open.spotify.com/artist/7uhMoU6n5g6kk77ZSB9qW6…

Ultra Magnus
Ultra Magnus is a weirdo who grew up in an extremely isolated part of Canada, but thanks to the advent of the internet he discovered hip hop decades ago and obsessed over it. Part of the duo of Ultra Magnus & DJ Slam!, he has been touring Canada for the last few years. While based out of Toronto, Ultra Magnus lives like a homeless grifter, drifting from city to city performing his rhythmic bleating to the uninitiated. If you want to compare his style to somebody else, don't. However, his primary influences are Ghostface Killah, Lightspeed Champion, and I-20, the tall guy from DTP with the super deep voice. Three albums in and Ultra Magnus is about four months away from becoming cynical because he's old, washed up, and his albums never really blew up.
https://open.spotify.com/artist/56HLjac3QBrtaWYoZ1Fu1L…

Primal Winds
Primal Winds is Toronto hip hop artists District Prime (rapper) and Iron Wind (rapper/producer). Since the 90s, Iron Wind and District Prime have been involved in the music scene in a group setting and as solo artists. They eventually crossed paths, decided to collaborate together, and soon after formed hip hop duo Primal Winds. With a discography consisting of five albums as of 2021, starting with T Dot Stand Up up to The Renegades, as well as multiple singles and EPs, Primal Winds are showing no signs of slowing down as the they gear up to release their new album, Crowd Control, on Hand'Solo Records in early 2022.
https://open.spotify.com/artist/29gQlNXYzFcMQIAfoJ2O12…

Fresh Kils (beat set)
From behind the boards to the stage, there's not a spot of ground Fresh Kils' prolific career hasn't touched. And its not just hip hop. Its true, you'll see Maestro Fresh Wes, Fabolous and Ali Shaheed Muhammad (ATCQ) grace his resume, but you'll also find the likes of Ron Sexsmith and The Buena Vista Social Club. With momentum and accolades growing each year, Fresh Kils is poised for a sound system takeover unlike any we've seen in a long time.
You've been warned….
https://open.spotify.com/artist/3rVE3A5otLlHHxxs25rrb2…

MUSIC BY

DJ SLAM!
Seasoned battle DJ and the manipulator of the wheels of steel on CIUT radio show 6 Degrees. Occasional co-conspirator with Ultra Magnus and DJ on Mickey O'Brien's Shift Change. See less