Super awesome thanks to Trevor Tuminski for showing so much support to Swamp Thing through Rue Morgue Magazine, a Toronto-based horror magazine and corresponding website. First, and awesome all on its own, is that Swamp Thing's "B-Movie Monsters" from their debut album Creature Feature was selected as the December addition to the taste-making magazine's free audio section aka Hymns From the House Of Horror III, joining the likes of 11 other horror-themed bands also picked this year, such as 45 Grave, Bloodshot Bill and Skinny Puppy. So that's cool, and so is the blurb on Swamp Thing that accompanies their exclusive FREE DOWNLOAD of Swamp Thing's "B-Movie Monsters". In other words, head over to their site and grab it FOR FREE.
Here's a screenshot of the blurb to entice you: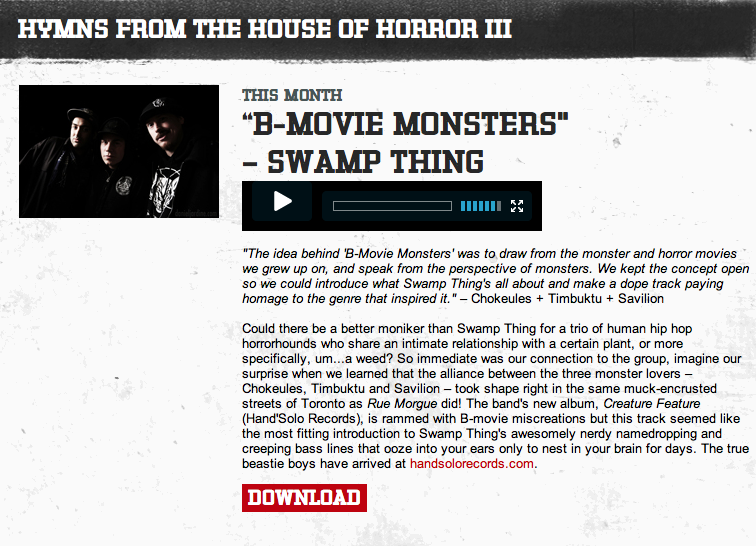 To listen to or download "B-Movie Monsters," click here:
http://www.rue-morgue.com/extras/hymns-from-the-house-of-horror
The above link also accompanies the spotlight review of Creature Feature in the December issue of Rue Morgue Magazine, now on shelves at fine bookstores and magazine shops, but unfortunately not at the one most convenient for me, which is still stocking the November issue. So I finally got a copy today and I'm pretty stoked! 5 skulls and crossbones! Love this review. Thanks, Trevor!
And here's his review: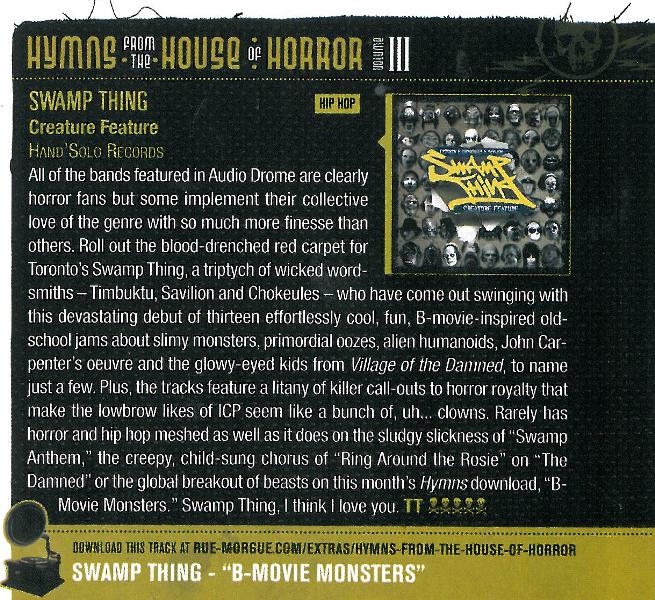 Want to hear more of the album, here you go:
Or click here: http://handsolorecords.bandcamp.com/album/creature-feature
And if you're looking for something to read, pick up the December issue of Rue Morgue and support. It also has a great feature on Clive Barker's Nightbreed, recommendations for horror-themed Christmas movies (festive!), and reviews of comics, movies, music and more!
And once again, to listen to or download "B-Movie Monsters" for free, click here: http://www.rue-morgue.com/extras/hymns-from-the-house-of-horror