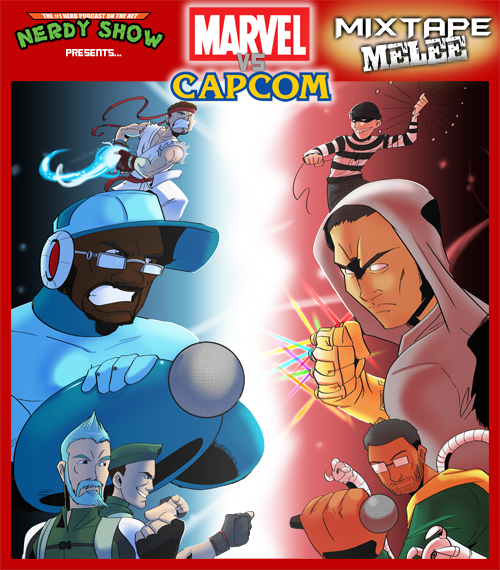 New music from Wordburglar is starting to come a little more frequently lately, with three new songs for free online since the release of Backburner's Heatwave.
First of these is his collaboration with producer Vince Vandal for "Forward Front Facer," their contribution to The Nerdy Show's Marvel vs Capcom 3 Mixtape Melee: Marvel Combatants. See him in the top right corner up there? Now hear his comic-book-inspired song here:
Wordburglar – "Forward Front Facer" (produced by Vince Vandal)
Listen and download this song or any of the rest of the songs that make up the Marvel Combatants half of MvC3: Mixtape Melee at:
http://nerdyshow.com/2011/11/news/contests/marvel-vs-capcom-3-mixtape-melee-marvel-combatants/
Tracklisting:
1. Adam WarRock – "Destroyer of Worlds" (produced by Vince Vandal)
2. Wordburglar – "Forward Front Racer" (produced by Vince Vandal)
3. Tribe One – "Gene Trash" (produced by Vince Vandal)
4. Storyville – "X-Men" (produced by MC Squared)

Next up is "So Much Time," his collaboration with producer Abstrack for the latter's upcoming album Digital Brain. Wordburglar has made the song available for free on his Bandcamp page.
And I don't know how I have continued to miss mentioning one of my favourite songs about Star Wars, not just this year but ever… "Dude, Where's My AT-AT At?" stars The Garthim-Master and Wordburglar as two bumbling Imperial drones who have misplaced their oversized vehicle… From The Garthim-Master's Ghosts of Nostalgia.
If you like these songs, why not give over a little time to checking out the rest of these artists' albums, eh?