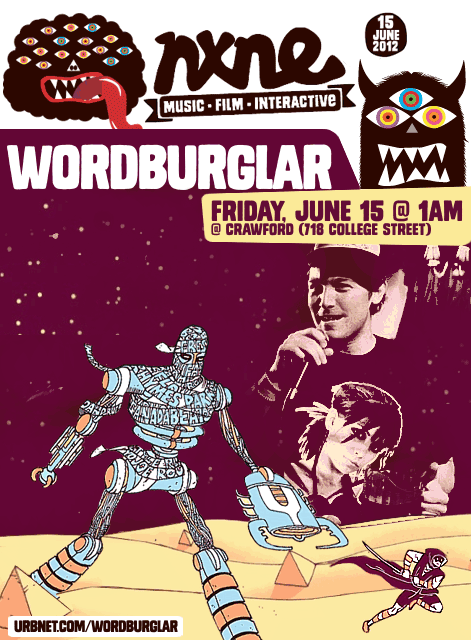 Wordburglar will be playing a selection of songs from 3rdburglar and a bunch of classics – "Wordburglar"? "Cream of Wheat"? "The Route?" – and backed by Peter Project, you know each song will have his own unique little touch.
No idea what the price is for the night, but it's free with a NXNE wrist band or pass. Burg is on last and the bar is open until 4am afterwards, so if you're venue-hopping for different acts you should plan to end your night at Crawford with Wordburglar! But that whole line-up looks rather interesting and should lead to an enjoyable night. Check it out for yourself:
Friday, June 15 2012 at Crawford (718 College Street @ Ossington)
9:00 PM – Tre Leji
10:00 PM – Nova the Rebel
11:00 PM – Cello Kid
12:00 PM – Concept Books
1:00 AM – Wordburglar
Yeah, I don't know any of them either, but their sample music sounds good… and isn't NXNE all about discovering new bands?
Facebook Event Page: http://www.facebook.com/events/204841009639028/
NXNE Event Site: http://nxne.com