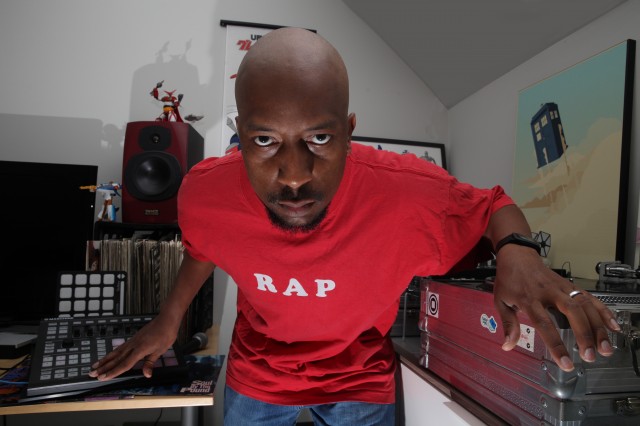 With over a decade of critically-acclaimed releases, Toronto triple threat (rapper, DJ, producer) More Or Les returns after last year's well-received Post Millennium Tension EP with the full-sized LP of mindful bangers Blow The Fuck Up But Stay Humble.
Once again with the aid of indie rap label Hand'Solo Records, Les sets out to address hubris, ego, and artistic, cultural & social stereotypes within rap music and broader pop culture with this 19-track opus, advising folks to reach for the stars but not be selfish morons while doing so. From calling out locals rappers on their inability to balance a budget ("Don't Use Rap To Pay Bills"), to challenging stereotypes of masculinity ("Get Sex," "Man Up" and "That Look"), to questioning the need to own a firearm in the Western world ("Get Shot"), More Or Les relentlessly shines a light on important topics most rappers hope to avoid, and still brings the heat over banging beats with sharp cuts.
While Les himself takes on the lion's share of production and scratching, the album also features a crack team of production, vocal and turntable specialists to help with the humble attack. Guests include: Columbus, OH emcee & producer extraordinaire Blueprint (RJD2, Megahertz), Van City rap legend Moka Only (Len, Swollen Members), UK scratch master Ollie Teeba (Producer & DJ half of the Herbaliser), Digs (producer for Juno award-winner Shad), NYC Nerdcore rapper Schäffer The Darklord, Toronto rhyme animal The Mighty Rhino, and fellow Backburner crew members Swamp Thing, beat-maker phenoms Fresh Kils and Beatmason, and underground nerdy rap luminary Wordburglar.
With a flavour akin to hip hop's Golden Age updated for a Twenty-teen audience, Blow The Fuck Up But Stay Humble promises to entertain listeners while giving them permission to be thoughtful as they live their lives large through the music.
#UpWithHumility!!
Hand'Solo Records Discography:
ALBUMS