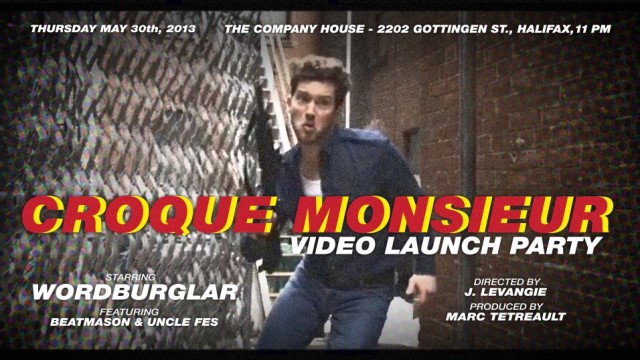 Be one of the first to see Wordburglar's new video for "Croque Monsieur" when it debuts at the Halifax video launch party on Thursday, May 30 at the Company House (2202 Gottingen St) in Halifax, Nova Scotia.
Directed by J. Levangie and produced by Marc Tetreault (the same creative team that brought you "Rhyme O'Clock") and guest-starring the boom-baptical Beatmason and the crown prince of cuttin' Uncle Fes, CROQUE MONSIEUR is an action packed homage to the best 80s TV show you've never seen.
The release party features a live set from Wordburglar at 11:30 pm sharp followed by the video premiere at midnight. Doors open at 11pm.
AND THIS SHOW IS FREE.
"Croque Monsieur" is the third single from Wordburglar's latest full-length album 3rdburglar:
http://handsolorecords.bandcamp.com/album/3rdburglar
Can't catch Wordburglar this time around, perhaps you can catch him at one of these other upcoming shows:
TORONTO, JUNE 13 – NXNE at Sneaky Dees (431 College St) @ 8pm
TORONTO, JULY 4 – $5 RAP SHOW at Rancho Relaxo (300 College St West) @ 10pm
SAN DIEGO, JULY 18-21 – SAN DIEGO COMICCON
HAMILTON, JULY 27 – CON BRAVO at Hamilton Convention Centre @ 8pm
SOUTHAMPTON UK, OCT 12-13 – Roll Out Roll Call
For more information on the "Croque Monsieur" video release, visit the Facebook Event page here: https://www.facebook.com/events/504964632904540/
And to keep up to date on Wordburglar tour dates, sign up for the Wordburglar Facebook Group here: https://www.facebook.com/wordburglar