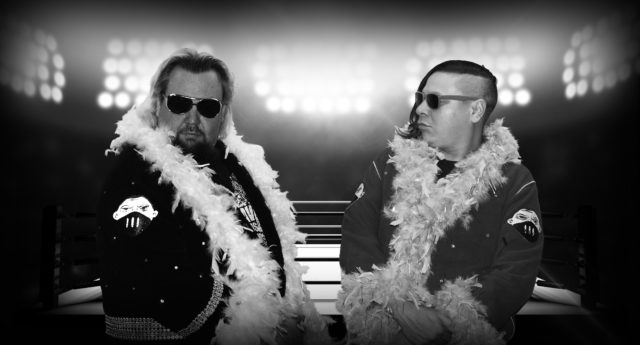 Founded in 2007, Winnipeg-based rap duo Filthy Animals consists of Big Bear and Pnutty Goldust, veterans of the Canadian hip hop scene for over 17 years and highly respected in the prairies. They received their name from legendary New York rapper Buckshot (Duckdown Records, Black Moon), who dubbed the duo the Filthy Animals while Bear and Pnutty were on tour along with other members of Deepcave Records opening for Buckshot's hip hop super group Boot Camp Clik.

Armed with their brand new name, Filthy Animals released their debut album, Sounds of Nature, in 2010 on Deepcave Records. The album quickly earned the attention of Canadian hip-hop fans and critics alike. Backed by hard-hitting songs like "The Plot", "Superbad" and "Bizness as Usual", Sounds of Nature landed Filthy Animals an interview with the international publication Girls and Corpses Magazine in 2011 as well as numerous national radio and T.V. interviews.

In 2017, Filthy Animals followed up with their sophomore album, Finally (Deepcave Records), which was once again well-received by Canadian hip-hop fans and the industry alike thanks to anthems like "Killing Me", "Filthy Fucking Animals" and "Earwax", the latter featuring LA rap vet J-Ro of Tha Alkoholiks. More radio interviews and live shows followed.

When it comes to live shows, Bear and Pnutty are no strangers to the stage with hundreds of performances under their belt both as Filthy Animals and as solo artists. Boasting a high energy live show laced with mind-boggling flows, comedic banter, and crowd participation, Filthy Animals has built a a notoriety throughout Central and Western Canada as one of the finest homebred acts that their musically infamous frozen prairie capital has to offer. Their onstage chemistry is ever evident and their live shows are highly anticipated.

Filthy Animals have performed all over Canada, and in select U.S. cities, receiving praise from audiences wherever they venture. They have opened for all your favourite rap acts touring Canada, sharing the bill with the likes of Method Man & Redman, Sean Price, Tech N9ne, Jedi Mind Tricks, Royce Da 5'9, Masta Ace, R.A. The Rugged Man, Pharoahe Monch, Insane Clown Posse, Everlast, Atmosphere, Kool Keith, Swollen Members, Moka Only, Classified, Merkules, and so many more notable acts.

Their third album, Still Filthy (Hand'Solo Records/Deepcave Records), showcases the same booze-filled but razor-sharp technical lyrics alongside the comedic wit and storytelling their fans have come to expect of the duo, all over a mixture of boom bap and trap beats produced entirely by Pnutty Goldust, with guest appearances by a handful of the Deepcave Records collective. Still Filthy is proof the duo still has what it takes… after all it is the best Filthy Animals album so far.
Hand'Solo Records Discography
Albums
Singles
Compilation and Mixtape Appearances
(Big Bear)