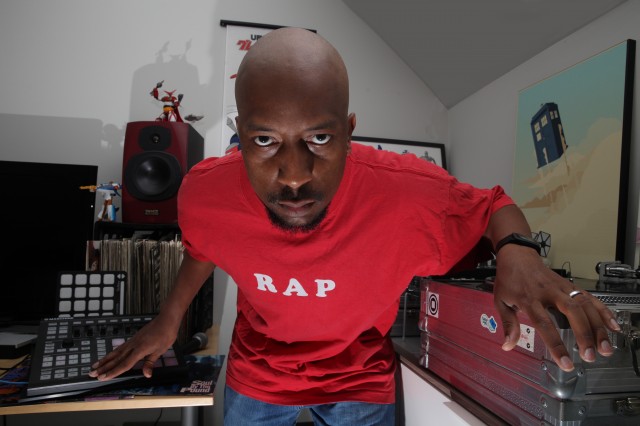 Toronto DJ, Producer, Rap veteran More Or Les returns after the critically-acclaimed 2016 release Blow The Fuck Up But Stay Humble and 2017 B-Movie-inspired beat tape Big Lunch in Little China with a nerd/geek-focussed album appropriately titled Nerd Love, released by left-of-centre indie rap label Hand'Solo Records…

…. annnd let's stop it there. This is a different release from the norm, so let's keep it different here, too! I'm gonna pull a Deadpool, smash this fourth wall, and just tell you about stuff…

…Like Gymkata – do you know about Gymkata? I love it, so I wrote a song about it, called "Skill of Gymnastics, Kill of Karate" – I hope peeps love it too. Other things I'm into include giant robots (with "Double Tomahawk" feat. Backburner member Jesse Dangerously), Dungeons & Dragons (with "Roll the Dice" feat. Nerdcore mainstays int80 and Mikal kHill), lots of Star Trek (with songs "Klingon Neighbours" and "Picard Maneuver" feat. Touch and Backburner homies Wordburglar and Timbuktu), and more geeky music for certain… there are 15 tracks of bumpin' beats, crafty cuts and paranormal lyrics to choose from…!

I also have the pleasure of working with soulful beat-maker Abstract Artform, Nerdcore producer Klopfenpop, sultry Sunshine State vocalist Alezandria Coldevin (on a groovy dance interpretation of "Fly Me to the Moon", a song popularized by the anime Neon Genesis Evangelion), Nerdcore Rap champion LEX the Lexicon Artist (on the X-Men comic-inspired "Danger Room"), and Billboard-charting, Guinness Book record-holding Mega Ran (on the song "Hidden in Plain Sight", discussing the representation of POC in entertainment media). They all help make this geek lovefest a little more romantical with their amazing contributions!

And before I forget: me and Hand'Solo released a digital single in June and 7-inch vinyl in July for "Choose Your Own Avenger" – a powerful posse cut featuring some of Earth's Mightiest Heroes! Peeps can grab either of those now, and the DJ pack digital single for the title song "Nerd Love" (including a remix by producer phenom Fresh Kils) in mid-August… 'nuff said!!
#NerdLove!!
Hand'Solo Records Discography:
Albums