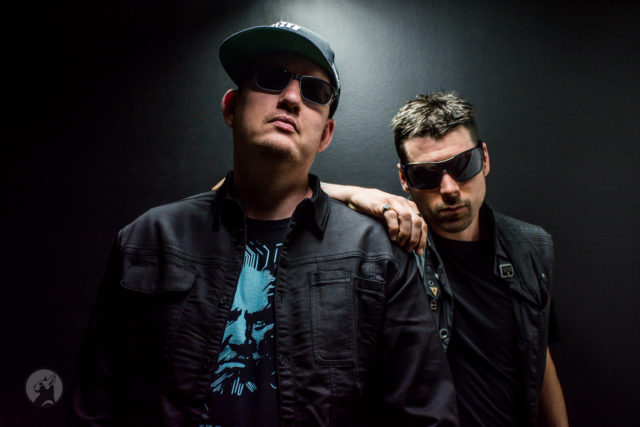 From TDot Stand Up through Give No Quarter to Cut You Down, Primal Winds is proud to present the next instalment in their anthology of concept-themed rap albums. Road Warriors opens with the title track, revealing the road ahead to be a post-apocalyptic drive-to-survive journey through the worlds of Mad Max, Death Race, Tank Girl, Twisted Metal and more. Driving metaphors weave in and out of the vivid imagery and world-building story-telling as told over a soundtrack of high octane rap-metal, hardcore hip hop, horrorcore, industrial, and even a splattering of post-apocalyptic 40s jazz.
After a few tracks on the open road exploring this violent world, tune into "Radiation Station," the station of choice for the best of the road warriors and war boys, broadcast from an underground bunker built to withstand the nuclear fallout. Another broadcaster returns to announce the zombie epidemic as on "Outbreak". But if Iron Wind and District Prime are going to die, they're going to do it on the open road. So they jump back behind the wheel to let off some steam (and a few gunshots) on "Road Rage". Then it's time to meet the love interest ("Tank Girl"), fall in love ("Atomic Love"), and conclude the story with a positive message ("Stand By Me").
With Road Warriors, Primal Winds is firing on all cylinders, once again demonstrating their willingness to rock any beat and crush any concept. Produced entirely by Iron Wind aside from a remix by Fresh Kils, and co-produced by District Prime (previously Primordial Emcee), with lyrics from both, the duo's fourth album also features long-time collaborators Warrzone on "Twitsted Metal" and Fortunato on "How You Like Us" and "Stand By Me", as well as chorus work by Julian Swift (singer and guitarist for the Cola Heads) on "Road Warriors" and Lucy Lovesick on "Stand By Me".
A guaranteed gas on any road trip, Road Warriors should be used with extreme caution: this album contains music of highly contagious energy levels and lyrics of a devastating nature!
Website Links: