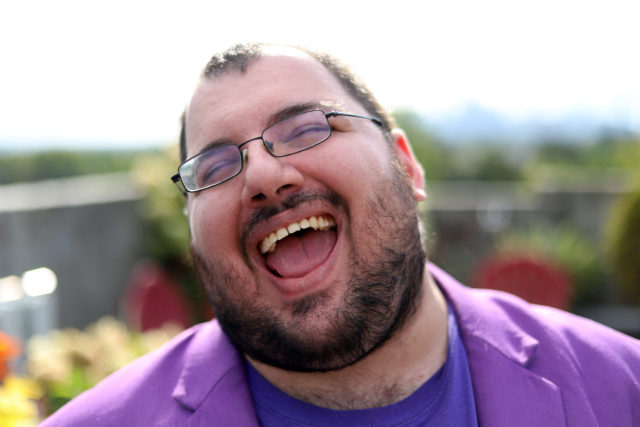 It's been nearly 10 years since Torontoist referred to Toronto rap phenomenon The Mighty Rhino as "a legend in the making", and five since Billy Danze of New York hardcore greats M.O.P. called him "one of the best things ever to happen to hip-hop." Now, with the release of his glorious, triumphant third album, A Joy Which Nothing Can Erase, The Mighty Rhino is proving anew that those things – a legend, and one of the very best things about rap music – are exactly what he is.
It's not that his legacy wasn't already extraordinary. His previous album, 2018's We Will No Longer Retreat Into Darkness, made Scratched Vinyl's top 15 albums of that year and gave "more chills than any other album I've ever heard" to Adam Walsh of Crates of Boombap. The one before that, 2011's He Whom The Beat Sets Free Is Free Indeed, earned him nominations at the International Songwriting Competition and the Toronto Independent Music Awards. He's worked with and been co-signed by a staggering lineup of rap royalty, from Prince Po and A.G. to Jeru The Damaja and Masta Ace, Witchdoctor and Big Mike to Chali 2Na and Brother Ali. And through it all, his stage presence has remained as Maclean's magazine noted it was all the way back in 2007: "Electric." He's even made a fan out of the nonpareil Nardwuar!
So what's different about this new album? Simple: It's just better. The 12 songs on A Joy Which Nothing Can Erase are alternately thoughtful and hilarious, tender and rollicking, spiritually potent and magnificently filthy – and quite often all of the above at once. Merciless, buss-ya-head-open bangers like the disgusting "Unfuckwithable", the hard-charging first single "Full Steam", and a pair of seismic, galvanizing posse cuts featuring old friends (Prince Po, Adam Bomb, Ultra Magnus, More Or Les) and new (Skizza, Roshin, Fraction, Fatlip of The Pharcyde) complement Rhino's deep dive into complex emotional waters with his trademark flair on "Ain't Pushin'", "Honourable Man", "Not All Is Lost" and the moving, honest "Little Ol' Me", on which Rhino, "the bipolar high roller", dishes about his various medical conditions and disabilities. Through it all, Rhino's integrity and flawless showmanship shine. Quite simply, A Joy Which Nothing Can Erase is the most fun you'll have listening to a rap album all year. It just might be the year's best as well.
#RhinoSalute! 
Albums