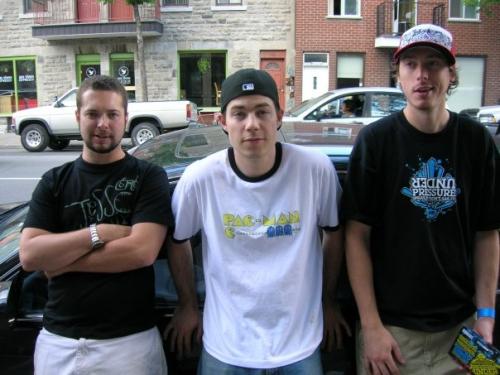 Toolshed was an accident waiting to happen. Longtime friends and collaborators Timbuktu (emcee/producer), Chokeules (emcee) and Psybo (emcee) have been writing and recording together for nearly a decade and a half.
After years of making tapes and rocking local shows, the trio released their self-titled debut in 2000. Since then, they have independently released group efforts Schemata (2002), Illustrated (2003) and Relapse (2006) – the latter landing on the London Free Press's Top Ten Albums of the Year and earning the boys a 2006 London Music Award for Most Popular Hip Hop/Rap Group – along with a handful of solo and collaboration albums.
Recorded shortly after the release of Relapse, the music that would be follow-up album The Lost became buried as the three emcees relocated to different cities and began working on a series of solo albums: Choke's Hypergraphia (2009), Timbuktu's Stranger Danger (Urbnet, 2010) and the yet-to-be-released Psybo solo. With the solo albums in the bag, Toolshed accepted the opportunity offered by Hand'Solo Records to release their long lost album, and Timbuktu revamped the whole project. Now The Lost combines the old with the new, featuring appearances from fellow Backburner bros and other close collaborators: guest vocals from Savilion, More or Les, Wordburglar and Juno nominee Ghettosocks; production from Timbuktu and Fresh Kils; and additional remixes by Bix, Savilion and Muneshine. Historically inaccurate liner notes are provided by Juno-nominated rapper D-Sisive, aka Derek Christoff.
While The Lost is surely Toolshed's best album so far, it's their impressive live performance that really drives the group forward. The Shed have turned years of experience into a live show guaranteed to grab your attention, earning them performance spots alongside such notable acts as Devin the Dude, Lootpack, Busdriver, Aceyalone, Awol One, Swollen Members, Pumpkinhead, El Da Sensei (of Artifacts), A.G. (of Showbiz & A.G.), Riddlore?, GZA and more.
At the end of the day, whether it's with boozie cups or posse cuts, Toolshed bring the party to end all parties.
Hand'Solo Records Discography:
Albums