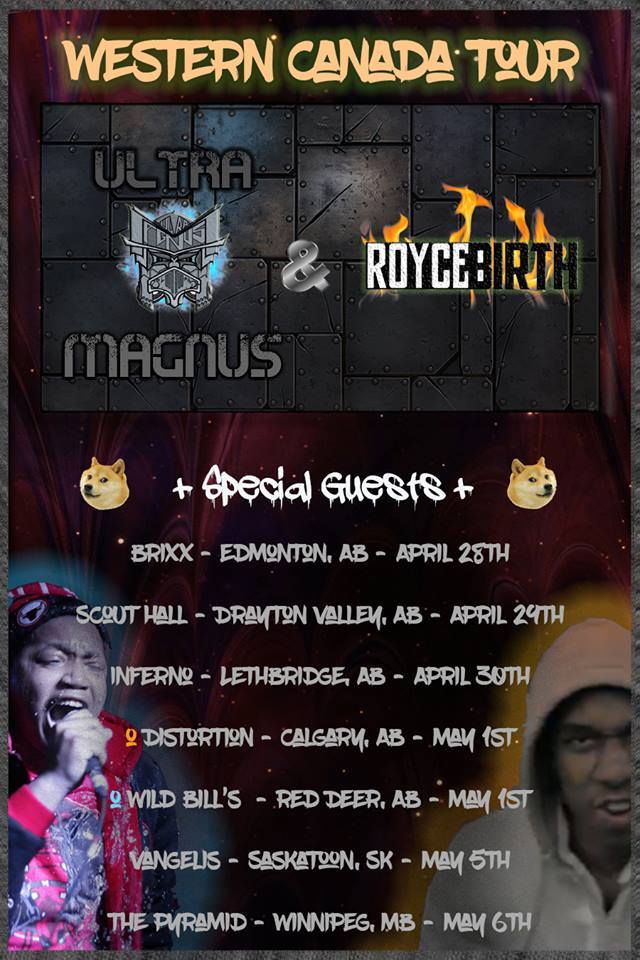 Ultra Magnus and royceBIRTH team up to tour Alberta, Saskatchewan and Winnipeg, both for the first time. At each tour stop they will be joined by other great hip hop acts, both local and national. If you live near any of these locations, we'd love to have you out. You'll definitely get a great show you won't forget.
THE TEAM UP:
Ultra Magnus:
Ultra Magnus & DJ SLAM! is everything the world needs during these tumultuous uncertain times. Another DJ and the 10,000th rapper this week, and from Canada, no less. But what sets this duo apart from the rest is they make music not for their contemporaries but for dental assistants, public servants, Puerto Rican goths, Filipino vampires, sexual deviants, 1990s ravers, dads, people with three dads, your dad, Big Daddy Kane, and you. Yes, even you, rap fan, should find something to like in the rhythmic bleating of Ultra Magnus and the steady beatitude of DJ SLAM!.
Video: https://youtu.be/JUzY-etcb6c
Bandcamp: https://handsolorecords.bandcamp.com/album/the-raw
@UltraMagnusMC
royceBIRTH:
royceBIRTH has contributed soundscapes to the likes of Rich Kidd, Tona, D.O. and to Ghettosocks' Juno-nominated album Treat of the Day ("Rappin For Fun"). He has also proved he can hold his own on the mic, sharing the stage with Jeru Da Damaja, k-os, K'Naan, and Phife Dawg (of A Tribe Called Quest). In a time where art is easily imitated and duplicated, royceBIRTH searches for ways to preserve the craft, and add his own twist to the mix. His third and newest album, Art On Fire!!, displays a true visionary at work by turning instruments upside down, flipping soul samples into full-driven punk records, and taking music into an unexplored territory yet to be heard. Always creative, forever determined, this is royceBIRTH.
Video: https://youtu.be/Nn5sp6Bt0HA
Bandcamp: https://handsolorecords.bandcamp.com/album/art-on-fire
@royceBIRTH
TOUR DATES AND INFO:
April 28 – EDMONTON, ALBERTA at Brixx
Ultra Magnus and royceBIRTH join the Banned From Walmart Tour
with Bender (Flight Distance / KOTD), Touch, JReds + Weezl, Boosh & The Dip, Fatty Jones, Nixon da Crook, and Lil Meecs
$17.50 in advance / $22.50 at the door
Event Page: https://www.facebook.com/events/1230014050357043/
April 29 – DRAYTON VALLEY, ALBERTA at Scout Hall
Ultra Magnus and royceBIRTH join the Banned From Walmart Tour
with Bender (Flight Distance / KOTD), Touch, JReds + Weezl, Geoff Sparkes, Chad L.E. McGhei, Catalyst Loa, McNoly, A-Dub, and Blak Lite District
$5.00 in advance / $10.00 at the door
* ALL AGES SHOW! No alcohol or drugs
Event Page: https://www.facebook.com/events/538473403002555/
April 30 – LETHBRIDGE, ALBERTA at Inferno
Ultra Magnus and royceBIRTH join the Banned From Walmart Tour
with Bender (Flight Distance / KOTD), Touch, JReds + Weezl, L-Rev, and Aerosubtle
$10 at the door
Event Page: https://www.facebook.com/events/1589373181377502/
May 1 – CALGARY, ALBERTA at Distortion
royceBIRTH joins the Banned From Walmart Tour
with Bender (Flight Distance / KOTD), Touch, JReds + Weezl, Saintanik, Billy Bi$hop, Majic, THE V!NZ, and Chad L.E. McGhei
$15.00 in advance / $20.00 at the door
* NOTE: ULTRA MAGNUS WILL NOT BE PERFORMING IN CALGARY
Event Page: https://www.facebook.com/events/833347060104620/
May 1 – RED DEER, ALBERTA at Wild Bill's Sports Bar & Event Center
Ultra Magnus joins the Stoner Nation Tour
with Demrick (Baxwar), Ultra Magnus, Ms Teaze, K.B.L., Skyler Durden, Johnny Alwayzfresh, and Dom Sawyer
$20.00 in advance / $25.00 at the door
* NOTE: royceBIRTH WILL NOT BE PERFORMING IN RED DEER
Event Page: https://www.facebook.com/events/1091219624262719/
May 5 – SASKATOON, SASKATCHEWAN at Vangelis
Ultra Magnus and royceBIRTH
with Chaps and Nolto, T-Rhyme, Mer, Rayne Drop, and DJ Heywood
$10.00 at the door
Event Page: https://www.facebook.com/events/1565856737045678/
May 6 – WINNIPEG, MANITOBA at The Pyramid
Ultra Magnus and royceBIRTH join the release party for Big Bear & Royal T's Silver Foxes
with Big Bear & Royal-T, Blackout and a special set by the Deepcave Records crew
$10.00 at the door
Event Page: https://www.facebook.com/events/533284683538475/
Check the Facebook Event Page for more info: https://www.facebook.com/events/1603442143311126/