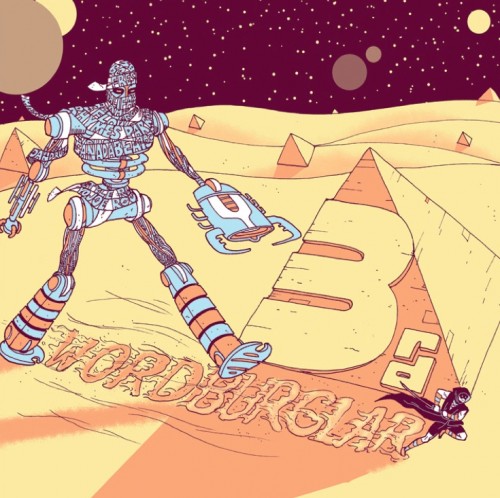 WORDBURGLAR'S 14 FUN FACTS FOR 3RDBURGLAR
The album art is drawn by Mike Holmes and was inspired by a combination of Jean Moebius Giraud (RIP), Tintin & Super Mario Bros.
"Croque Monsieur" is a delicious fried ham, egg & cheese sandwich, and when translated from French means "Mr. Crunch".
John Olerud, former star first baseman for the Toronto Blue Jays, had a metal plate in his head and always wore a helmet while fielding.
We really tried to get Peter Mansbridge to appear in the "Rhyme O'Clock" video.
"Fred Broca" is a Crimson Guardsman from Cobra and appeared in the Marvel Comics GI JOE series by Larry Hama. All Crimson Guards were forced to have reconstructive facial plastic surgery so they all looked alike and therefore could replace one another at any time.
"Sneaky Neighbours" was partially written on the roof of Timbuktu's old apartment while we were spying on the neighbourhood.
To be sufficiently suffonsified means that all your needs have been met.
Mark Gruenwald was a comic book creator who requested to have his ashes mixed into the ink of his Squadron Supreme graphic novel.
A hoojib is a telepathic bunny alien that has long been ignored by George Lucas and the Star Wars universe in general.
Masta Ace & Kool Keith are two of my favourite rappers of all-time and we sampled them both on the cut chorus for "Drawings withWords".
Foofaraw may be the first song to ever reference Mekanek and Ovechkin in the same verse.
Your friend's brother is still at large.
"Yobosayo" means "hello" in Korean. I picked it up from an old roommate who always had friends calling our place and saying"Yobosayo?" to me when I'd answer the phone. I've always liked this expression.
Work has already begun on the next record.
On May 15, 2012, Wordburglar drops his long-awaited new album, fittingly entitled 3rdburglar – it's his third full-length studio album, for those not keeping count… The album may not be out for another week, but pre-sales are now available through Bandcamp.
http://handsolorecords.bandcamp.com/album/3rdburglar
Order before the release date of May 15 and receive a FREE Wordburglar button, while supplies last.