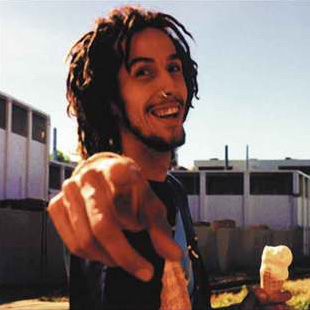 Born in Victoria but more recently calling Vancouver his home, Moka Only has done much for popularizing the important MC skill of freestyling amongst the emcees there. Before him and Prevail (of Swollen Members), the freestyle was just a novel concept.
Things began to change in 1989 when Moka got together with Juice Dub, Degree One and DJ Tee Double and formed their first group, Sound Advice, Victoria's first hip hop group. A year later and they had a video for their track "Tightrope." Another year and Sound Advice broke up, with Moka going on to form Split Sphere with K-Prevail where they really started demonstrating their freestyle skills. Moka went solo in 1994 and Prev started making moves with Swollen Members.
Since going solo, Moka has been constantly at work making cassettes and selling them by hand wherever he goes. And like the big fashion designers, Moka has a new style for every season, beginning with Fall Collection. These numerous tapes have featured appearances by the likes of Del and Abstract Rude, along with a bunch of local Van City talent. Plus, he's made a number of quality appearances on wax. In '96, Moka appeared along with a few other Van City MCs on Running The Asylum's 12″ posse cut "Ya Need Ta Quit," which has become an underground classic. In '97, Moka teamed with his Golden Section partner on the Birdapres & RKV 12″ for the controversial track "Now," dissing Swollen Members on what is essentially the first Golden Section track.
Now Moka takes the next step to increase his underground popularity by releasing the split-vinyl EP Crystal Senate, along with Halifax, NS's Sixtoo. Moka's two tracks were mixed by Kut Master Kurt (of Kool Keith fame) and received plenty of airplay by DJ Revolution on LA's The Wake Up Show. "Ow (When I Step In)" even made it to number 23 on the Hits "Rap Radio Top Thirty" chart.
Moka Only – soon to be Canada's true ambassador to the hip hop world.
Hand'Solo Records Discography:
Singles
Compilation and Mixtape Appearances